Flooring Installation
Flooring Installation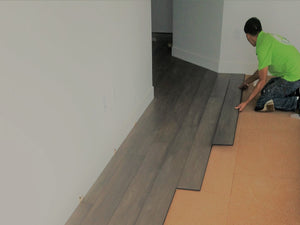 Real estate agents across the country agree that some of the most sought-after features for potential homebuyers are updated bathrooms and kitchens, fireplaces, open floor plans and large closets.
Perhaps the sole feature that tops the "must have" list is hardwood flooring. 
Hardwood floors produce an aesthetic beauty that simply cannot be matched by carpet. The decision to install hardwood floors is an ecologically friendly one and can reduce the allergens in your home significantly.
With proper care, hardwood can last a lifetime and give a home a sense of warmth and charm. 
Flooring installation may seem like a do-it-yourself job. Websites, books, hardware stores, clinics, and Internet podcasts make it seem like a task that requires little knowledge or experience. However, wood flooring installation is a job that requires expertise and precision.
From sourcing and storing the wood to maintaining proper moisture control prior to transport and installation, it's a worthwhile investment to utilize the experience of Evergreen Hardwood Floors' flooring installation service. 
Our sister company Evergreen Hardwood Floors located in the Bay area is the premier hardwood flooring installation service. The custom work they do is impeccable and each client is offered an array of hardwood flooring options.
Domestic or exotic planks can be mixed and matched to create a floor that is nothing short of a work of art. The unfinished hardwood floor can be customized by color or finish using the most advanced and cutting-edge technology to add a unique flair to your home.
Decorative borders and modern patterns can be created with hardwood flooring by utilizing a variety of textures and techniques. 
Their philosophy is simple; each job is done according to the client's specifications. The Evergreen Hardwood Floors experience begins with a free in-home visit with a site manager.
Understanding the array of wood choices is a crucial first step when working with a flooring installation service. Another essential aspect when choosing hardwood is the method by which it will be installed. Self-installation can produce costly errors, subfloor damage, and reduce the life of your hardwood. 
Call Evergreen Hardwood Floors for a FREE HOME ESTIMATE today!
Evergreen Hardwood Floors
Ph. (408) 509-8627 
Email. info@evergreenhardwoodfloors.com