LAMINATE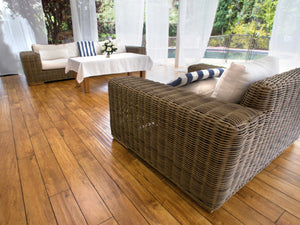 Laminate flooring is a multi-layer synthetic flooring product fused together with a lamination process or usually called as a hybrid floor, covering made of particleboard wood.
Laminate simulates wood with a photographic applique layer under a clear protective layer or with the texture printed on top.
The price is very affordable, known as an economical flooring option and it's also easy to install.
You also find the waterproof Laminate flooring that can be a good choice if you consider easy maintenance and durability.
LAMINATE