100% VIRGIN MATERIAL LUXURY SPC FLOORING
100% VIRGIN MATERIAL LUXURY SPC FLOORING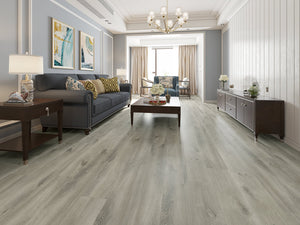 With high density of 2,100 psi (kg/m3) and simple production process that is completed by heat without glue made this Luxury SPC collection become the best choice for any residential and commercial projects that are concern of health and environmentally friendly.
Made with 100% virgin (new) materials don't contains any harmful substances such as heavy metals, cinnamaldehyde esters, phthalates, and formaldehyde.
100% virgin materials and high density combines commercial grade of durability and strength while simultaneously delivering a timeless visual experience that is both modern and rustic. The natural look and feel of our collections create a tranquil, peaceful atmosphere that is soothing and chic.
Our revolutionary lines of luxury synthetic 100% waterproof SPC flooring that effortlessly combines the extravagance of opulent flooring while maintaining a sense of comfort, hospitality and modern elegance.
Check out our collection below:
https://www.evergreenhardwoodfloors.com/collections/medieval-floors