Get inspired with Herringbone Hardwood Floors
Get inspired with Herringbone Hardwood Floors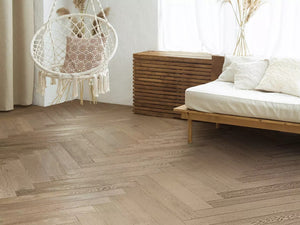 This Herringbone pattern is trending right now, especially when you are combining this pattern with the hardwood plank, you'll get a lovely and gorgeous home design.
The history of Herringbone is a design inspired by (of all things) a fish or the skeleton of a fish, it seems unattractive but it quite eye-catching. With the zig-zag pattern, this specific design Herringbone pattern takes a bit of work and craftmanship.
Herringbone flooring is also timeless, with the historical design and blends seamlessly with traditional and retro-style spaces, but you can also get a modern design touch with this kind of pattern that makes Herringbone popularity continues growing year-by-year.
Featuring "Timbertop Herringbone Collection" by Urban Floor, European Oak Lucca Herringbone is one of the most popular colors from this collection, with the reactive stain and smoked finishes.
This collection steeped in rich history and abounding in old-world charm, Lucca is one of the most beloved cities in the region of Tuscany, Inspired by the charming culture of its namesake, the European Oak Lucca Herringbone brims with character and style. Each 4-3/4" wide plank is carefully brushed to accentuate the natural wood grain and complemented with a modern matte finish.
For all your hardwood flooring needs, feel free to contact Evergreen Hardwood Floors, Inc for free estimate and free consultation by contacting (408) 333-9771 or visit www.evergreenhardwoodfloors.com