Cork Flooring
Cork Flooring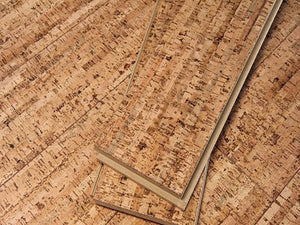 Before considering this product, it's important to highlight that cork is no longer in trend and is not recommended.
Cork is obtained from the bark of European Oak trees. Today there are many aesthetic possibilities and formats, without removing its main characteristic of irregular grains, which provide it with beauty and elegance. Cork Floors are treated with either seals or varnishes, which increases its resistance, impermeability, and durability.
Cork Floors have many advantages:
They're easy to install.

They provide a spongy feeling that is pleasant when walking.

It has thermal insulation and decreases loudness.

They are malleable and non-slip,

They're hypoallergenic.
Disadvantages:
They're expensive.

They have several aesthetic possibilities, but there is not as much variety of designs as other types of hardwood floor do.

They can't be installed in rooms where there's sun for a long time; constant exposure and sunlight will affect its hue.