Hardwood Polyurethane Finishes
Hardwood Polyurethane Finishes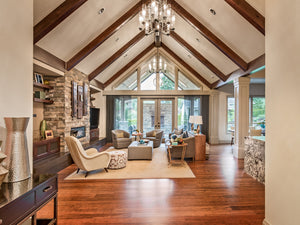 Polyurethane finishes are available in three different types of sheens.
- High gloss polyurethane is the highest performing gloss; it's heavy duty, robust, flexible, very shiny, and used mainly on metals like iron and steel and also on newly poured concrete.
- Semi-gloss, typically used on hardwood, furniture, and other wooden surfaces. It's fast drying, within 24 hours, and provides a subtle shine.
- Satin is also quick drying, it's durable, and adds minimal shine for a more matte look.

Water-based polyurethane is the most popular option; it's odorless and transparent. Many people enjoy it because it requires less ventilation in areas where applied, but it's less durable and more expensive than oil based and requires more coats. Because of certain chemicals in oil, it needs to be applied in areas where there's high ventilation. Another slight defect is that it doesn't dry as quickly; however, it's durable and resistant to moisture and heat. If you prefer to keep the natural color of the wood, oil-based wouldn't be a good option since it changes color over time.
Call us for a FREE ESTIMATE on your hardwood floor at (408) 509-8627 or (408) 333-9771. You can also visit our website at www.evergreenhardwoodfloors.com.