Waterproof Flooring
Waterproof Flooring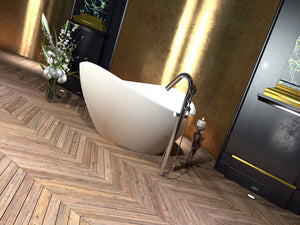 Being waterproof refers to permanent material, where water doesn't penetrate the item, no matter how much time passes. Many people prefer to have waterproof flooring in two main areas, the bathroom, and the kitchen.
Two waterproof flooring options are Stone Plastic Composite (SPC) and Wood Plastic Composite (WPC)- two types of vinyl engineered flooring. They are very similar in that they do not deteriorate, and are often more rigid and pricier than typical vinyl options.
They are great flooring options for these reasons:
Long durability
Prevention of moisture buildup
Protection against liquids
Easy Cleanup
Their color doesn't fade.
And finally, they can be installed in any room of your home; however, they are not recommended for exterior installation.
Whether or not you choose this type of flooring, we would be glad to answer any questions you have about flooring. You can contact us by calling our office at, (408) 333-9771 or by emailing us at info@evergreenhardwoodfloors.com.