SPC American Walnut, Hickory & American Cherry
SPC American Walnut, Hickory & American Cherry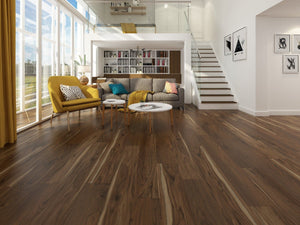 Beautiful look of New SPC Gaia Floors American Walnut, SPC American Hickory and SPC American Cherry. 100% waterproof.
S = Solid, resilient stone based construction 60% stone
P = Performance, leader in environmental health and durability
C = Comfort, luxury sound and heat insulation.
New Gaia White Series SPC represents American Walnut, American Hickory and American Cherry's natural beauty. With a wood grain embossing directly over the 20 mil with ceramic wear layer, Gaia Flooring White Series is industry leading for durability. The SPC stone based core with luxury sound and heat insulation underlayment, surpasses luxury standards for multilevel estates. Waterproof and guaranteed in all rooms in your home and all regular commercial environments.
Comes with 50-year residential warranty and 10-year commercial warranty makes Gaia new collection would be a good choice for your flooring need.
Contact us for quote at (408) 333-9771 - (408) 509-8627 or email us at info@evergreenhardwoodfloors.com.