Acacia Flooring
Acacia Flooring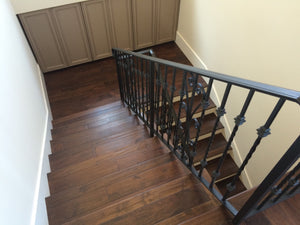 If you are looking for a unique flooring option, you might want to consider exotic woods, specifically acacia. Acacia is known for its variation in grain patterns and distinct look. Here are a few things you should consider before selecting acacia.
This wood comes in short planks, not long ones. If you prefer a cleaner look, this may not be the best choice for you. 
Acacia is known to shrink if the surrounding humidity is too high. Proper control of moisture is essential for acacia.
Despite these negatives, there are many reasons why you should consider this flooring.
This type of wood comes in a variety of colors and patterns. You can either opt for its natural color or choose from a variety of stains. 
Acacia wood has a high density which means it'll be long-lasting, your floor won't have to be refinished or replaced for a very long time. 
Its high density also provides it with fire resistance.
Low maintenance is needed. Sweeping is regularly needed to wipe away debris and avoid scratches. 
This wood is mid-range priced, meaning that although it's not very cheap, it's not expensive. 
And lastly, acacia wood is resistant to mold and certain types of bacteria which comes in handy if you have children or pets. 
Ultimately it is the decision of the homeowner to choose which style of flooring they would like. Acacia wood is just one of the many options there are.
Whether or not you choose this type of flooring, we would be glad to answer any questions you have about flooring. You can contact us by calling our office at, (408) 333-9771 or by emailing us at info@evergreenhardwoodfloors.com.